FREQUENTLY ASKED QUESTIONS
My visa expired during lockdown. What should I do?
All South African visas that expired during lockdown have been extended until 31 January 2021. However, we encourage renewal processes to start sooner rather than later, to avoid further delays and ensure you are ahead of the queue in since there is a backlog of applications.
Will I be able to apply for a passport with the move to Lockdown Level 1?
The Department of Home Affairs has now resumed the issuance of all passport types to those who have applied. This also includes essential civic services offered.
Can a South African Travel to a high-risk country?
All South African Citizens are now permitted to travel abroad for work, study, residence, business and leisure subject to the restrictions of their destination country and/or transiting country.
It is imperative that all travellers familiarise themselves with that countries entry regulations before proceeding with travel arrangements.
What is the process for someone in a High-risk country needing to get back to South Africa?
Those who wish to undertake business travel to South Africa may apply in writing to the Minister demonstrating reasons for travel to the Republic and once approval has been granted, they may proceed to apply for the necessary visa prior to travelling.
VISA FREE ACCESS TO SA RESTORED: 11 COUNTRIES
The Minister of Home Affairs, Aaron Motsoaledi, announced on Sunday, 4 October 2020 that 11 countries would be allowed to enter South Africa without visas, thus reinstating the visa exemption status of citizens of the following countries:
1) South Korea
2) Spain
3) Germany
4) Italy
5) France
6) Portugal
7) Iran
8) Hong Kong
9) USA
10) Singapore
11) United Kingdom
At the beginning of the National Lockdown, this exemption was revoked, however, nationals of these countries are now free to visit South Africa should they comply with the health protocols and regulations.
It is important to note that France, Iran, Portugal, UK and the USA are still in South Africa's red list and are currently not permitted to enter the country as they are high-risk countries.
DEPARTMENT OF HOME AFFAIRS RESUMES VISA SERVICES FROM 22 SEPTEMBER 2020
The Department of Home Affairs issued a notice to all staff members on Monday, 21 September that Visa and other support services will be resuming from Tuesday, 22 September 2020. This includes Visa Facilitation Centres and South African Embassies abroad.
This follows President Ramaphosa's hot off the heels announcement of SA moving to Alert Level 1 and will no doubt be welcomed news for South Africa's flailing economy.
Key services to resume include:
1) Immigration services such as Temporary Residency Visa applications and/or Waiver applications;
2) Civic services such as registration of birth and application and issuance of all Identity Document / Certificate Types; and
3) Support services such as information services, communication and institution planning and support.

APPLICATION
&

ISSUANCE OF ALL PASSPORT TYPES
Department of Home Affairs Resumes Passport Services from 22 September 2020.
Seeing that we have now moved to Alert Level 1 of the National Lockdown, The Department of Home Affairs will now resume issuing Passports of all types to those who have applied. This also includes essential civic services offered by the DHA, such as:
1)    Registration of Unabridged Birth Certificates (including Late registration of birth);
2)    Registration of Unabridged Death Certificates;
3)    Application and Issuance of all Identity Document/ Certification types;
4)    Application and Issuance of all Passport types;
5)    Apostilling documents that originate from South Africa by authenticating or legalizing them for travel or work outside the country;
6)    Registration and Solemnization of marriages;
7)    Applications for amendments of personal particulars;
8)    Applications for rectification of personal particulars; and
9)    Back office records retrieval services.
IMMIGRATION
&

INTERNATIONAL TRAVEL GUIDE SOUTH AFRICA | LEVEL 1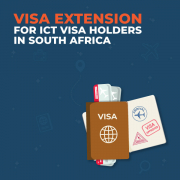 VISA EXTENSIONS FOR INTRA-COMPANY WORK VISA HOLDERS IN SOUTH AFRICA
Xpatweb conducted a survey during the peak of COVID-19 Restrictions in South Africa. The Work Visa Risk Impact survey gave a sense of how the lockdown is impacting expat workers within South Africa.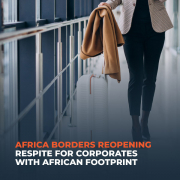 AFRICA BORDERS REOPENING: RESPITE FOR CORPORATES WITH AFRICAN FOOTPRINT
Despite the easing of lockdown measures worldwide, theCOVID-19 pandemic continues to have a devastating impact on most industries, none more so than travel and tourism.